Circuit bent Casio PT-100
Found this modified Casio PT-100 at youtube yesterday:
It's funny to hear first the familiar "Disco" pattern and then the altered version. I specially liked when he shows how he managed to make only the bass drum sound. The 90's-like rave distortion sound is very funny too. I imagined for a few seconds someone like the Techno Viking dancing to a loud circuit bent casio pt-100 and it just seemed so funny!
He has removed the internal speaker to make way for the extra knobs. I'm not sure about the internals of the instrument, but aesthetically it would have looked nicer to place the extra controls on the free area, just above the lower octaves keys. Again, what I'm saying maybe doesn't make much sense since it's possible there's no room for extra stuff at that place.
The other nice addition is the audio jack. The original keyboard can only output audio via the internal speaker and that is slightly annoying when your family wants to sleep but you just had a musical idea and want to try it :)
For your reference, this is how an unmodified casio looks like (it is mine, actually)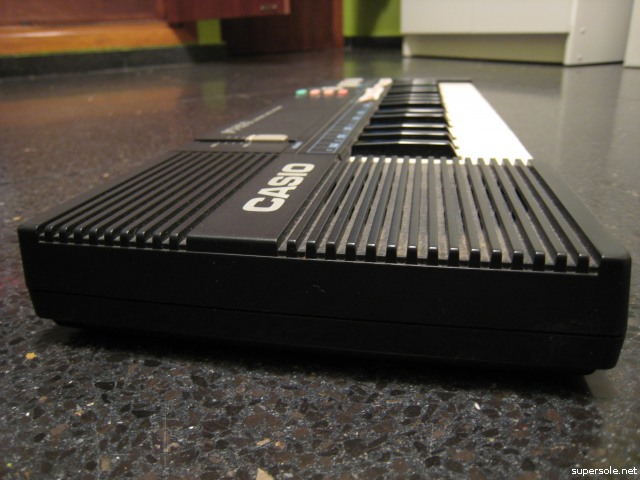 I think I wouldn't dare making all those modifications to my first ever keyboard. Maybe if I get my hands on another one, from ebay or something like that, I would try. As long as it doesn't bear any sentimental connection it should be fine, I guess :D