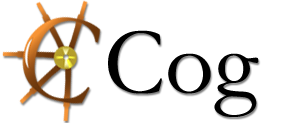 Cog is a minimalistic player for MacOsX, in pretty much the same spirit than foobar2000 or the first versions of Winamp. So if you're annoyed by iTunes' One Library To Rule Them All, this is what you were looking for!
It's still in early stages but the features list is pretty impressive, considering its version number is only 0.06 and can already play formats traditionally neglected in Mac such as FLAC or modules. Admittedly you could play them using VLC or mplayer but the interface isn't that nice.
Last.fm support is also in the bag, via calls to the last.fm client (which is not iScrobbler, and I was slightly confused as to what was what).
Enjoy!