Bend, hammer down, pickups, picks and slides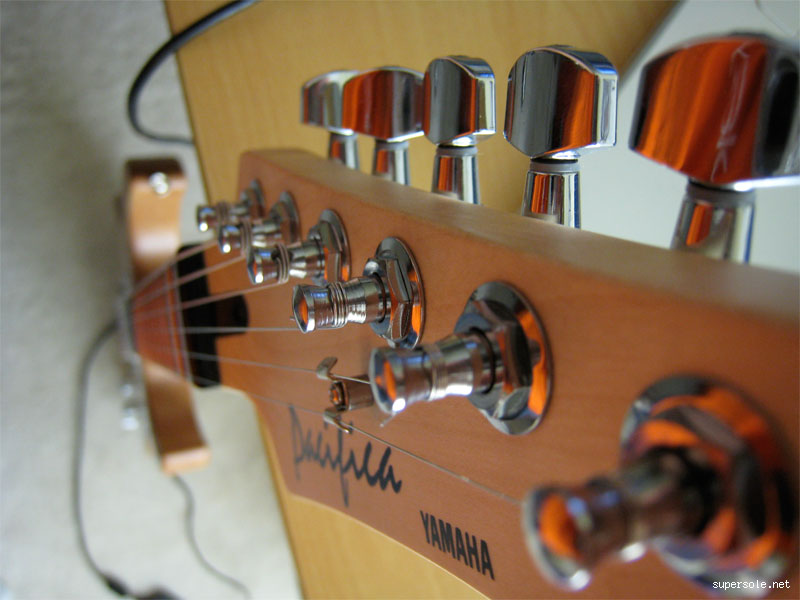 … and most probably, sore fingers too!
What's all of this about?, you may be asking yourselves…
When I arrived home on Thursday there was a little surprise waiting for me… an amazing electric guitar, thanks to mr.doob's spot-on ideas for Christmas :-)
It feels somehow coincidental because while being at Spain I was wondering about how could I bring my Spanish guitar with me to London, but I thought that maybe it would be more convenient to buy another one here and avoid all the annoyances of travelling with a guitar1.
Since the first and last time I had played an electric guitar was in the BASS essays for Breakpoint 2006 (which I think that was in fact the last time I played a guitar) I felt quite clumsy, and almost unable to do any barre chords, but I'm taking it easy, playing a little bit every day; I mostly play until my left hand finger tips begin to hurt a little bit too much, that's the sign it's been enough for the day.
It is superb to learn how to play guitar nowadays and with a good broadband connection. When I used to practice with my Spanish guitar, all one could do was to buy some handbooks (selected amongst a very limited offer) and hope they were useful, or share photocopies of chord tables. In contrast, I have found several sites with loads of information and guitar lessons, including videos and audio samples of how things should sound.
And what do I prefer, the Spanish or the electric one? Each one has its own distinctive features but I guess the electric one is more versatile, although you can't beat being able to bring the acoustic one with you anywhere and busking a bit. Not that I have done that, but I considered it for a while actually!
Also, since the electric guitar uses metal string for the six strings (unlike the spanish one which uses metal only for the three lower strings), I feel slightly scared of cutting my skin when sliding my fingers over them, specially over the highest string.
Anyway, expect some real guitar sounds in my future songs instead of prerecorded samples. I'm doing my best to get my guitar skills back into shape so it could be anytime soon! Fear me!
1 What I read is that you have to either buy another plane ticket and bring the guitar with you into the cabin, which I don't know if it's possible with the recent changes which just allow one to have one piece of hand luggage, or check the guitar in as fragile. And the sole idea of checking a guitar is giving me the creeps already…